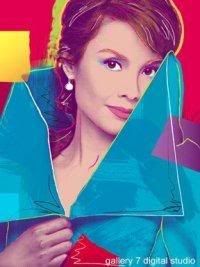 BackstoryJust can't stop the beat! By Lea Salonga
Philippine Daily Inquirer
First Posted 00:36:00 12/11/2008

MANILA, Philippines—Last Sunday afternoon I made a date with my daughter to see Atlantis Productions' "Hairspray." Now, it's no secret that my little one really, really loves this musical. She asks to see the movie several times a day (since she was a year old) and, by this time, has grown very familiar with the characters and the music.
I figured, since the musical (the film incarnation anyway) was already something she could relate to at the level of a two-year-old, our date would be something special. Besides, I think she's grown a bit tired of "Cinderella" by now.
We arrived at the Star Theatre quite early in order to beat the holiday traffic (I've found myself stuck in it enough times, and cussed under my breath whenever I'm cut off by an aggressive bus driver on Edsa). That gave me plenty of time to hang out with Bobby Garcia (director) and Chari Arespacochaga (co-director of "Avenue Q" and director of one of Atlantis' future musicals, "Spring Awakening"), and let my daughter pose in front of a few "Hairspray" signages in the lobby.
Charm to spare
The show came and went without incident… the leads had chemistry and charm to spare, and it was extremely exciting to see old friends onstage doing what they do best. Menchu Lauchengco-Yulo was deliciously vicious as Velma von Tussle; it was such a thrill and delight to see Enchang Kaimo back on stage… and boy, I had no idea Nyoy Volante could dance like that!
Madel Ching was great as Tracy Turnblad,
Tim Espinosa eternally charming as Link Larkin
, and Michael de Mesa's male self was almost completely gone in his Edna Turnblad. Not a bad pair of legs, either. Dulce's singing was a powerhouse, as it always is. The rest of the cast was energetic and irrepressible… and must have developed a great deal of stamina in order to dance as much as they did for those two hours. Pacing was tight, and there were no lulls in, or between scenes. I also have to congratulate Archie Castillo, who conducted FILharmoniKA. That orchestra never fails in its excellence.
Two complaints
I have only two complaints, given the high quality of the show and its performers: the Star Theatre, I'm presuming, wasn't built for the purpose of staging musicals, hence the sound quality wasn't at the standard I would have expected for this kind of a show. There are limits to a venue, but Bobbit and his crew did their best, and so I wasn't plagued with the same issues that previous audiences had complained about. Second, I'd have wanted to hear the dialogue with more clarity. This is something I noticed with the more seasoned performers: Enunciation was never a problem, and I could hear with crystal clearness most, if not all, of their lines. It's something that more training can definitely improve, and I hope to see many of these newcomers do this, and hear from them, in future productions, exactly what they're trying to say.
Charismatic cast
Having said that, this was an extremely charismatic, attractive and talented group of people, and I was incredibly lucky to see them all on one stage, in one show. I have great hope for all of these young actors and actresses and wish to see more of them.
Kudos to Bobby Garcia for his indeterminable patience, besides his directorial chops; and to Cecile Martinez for harnessing all that young energy into those dance numbers. Thanks, all of you, for making my daughter dance and smile.
After the performance, we were delighted to be invited to the company's between-show dinner. Nicole was then able to meet Tracy (Madel, who Nic shadowed for most of the meal) and Link. Of course, she had her pictures taken with her Ninang Menchu and Tito Michael. Thank goodness my mother taught her how to smile.
Bangkok, for sure
And we're off to Bangkok… for sure!
Over the last few days I've been reading the news with much more attentiveness than usual, to find out what's been going on in Bangkok. As I write, the airport operations are normal, and our company manager has sent an e-mail to let us know that we're definitely heading over there. By the time you read this, I should be nicely settled into my hotel.
I'm quite excited to return to "Cinderella," even if it's just for eight performances in Bangkok. It's been quite an interesting experience going on tour with the same show. It's something new, yet familiar with each city we visit. Another adventure awaits us, and the mystery of a brand new audience.
Please say prayers for our safety. We're not in Bangkok for very long, but I do pray for an uneventful stay. Then again, maybe there'll be another snafu… something I can definitely write home about!
Wish list
My wishes for the holidays:
1) Smooth-flowing traffic at all times of the day.2) Easy parking at the malls.3) No crowds in stores, no matter what time you go.4) Not hearing the words, "Sorry po, out of stock." Or a quick-thinking salesperson with an alternative selection.5) Shorter checkout lines.6) Longer tempers.7) A spirit of sharing with others less fortunate than us.8) Common sense… at every level, for everyone.9) A safer place to live.10) The absence of fear.
_______________
http://afleasalonga.multiply.com/journal/item/251/Backstory_Just_cant_stop_the_beat